Cultivate joy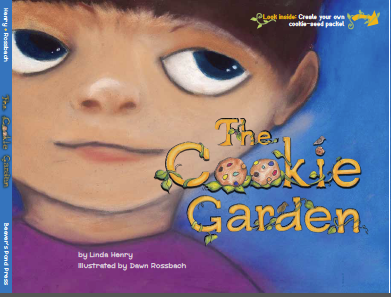 The Cookie Garden
How's this for a garden plot? Sam isn't impressed with his parents' vegetable harvest, so he decides to grow something really sweet: a cookie garden. What kinds of seeds will he plant? Can his family convince him that delicious and nutritious vegetables are enough to satisfy? Most important, will his cookie garden bloom?
Cultivating imagination through story
The Cookie Garden includes a do-it-yourself seed packet and instructions for making the magic happen. Like Mama says, "If you want to grow something, you have to plant the seeds." Your cookie gardener can fill the seed packet with their favorite type of cookie seeds: chocolate chips, butterscotch chips, M&Ms, raisins.
To order a personalized copy directly from the author, send me an email. Let me know if you would like it autographed or inscribed to someone special. The book is $20 + shipping for 1 copy, $35 for 2 copies, and $50 for 3 copies.